Your signage should be a natural extension of your brand, culture, and environment.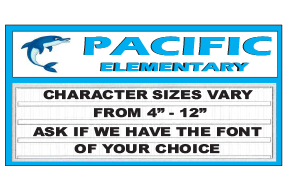 Changeable-copy Letter Signs are an affordable alternative to digital signage, yet allow the message to reach the public. Our changeable-copy letters signs are constructed with aluminum metal to prevent rust and all deco are in cased the lexan cover to prevent vandalism.
We also coat the lexan to help keep graffiti from obscuring your message. Changeable-copy Letter signage are very low budget signs and have extremely fast turnovers. This is a great product to display static effective messages for a small budget.
All aluminum structure
Fast turnovers
Extremely durable and low maintenance
Strong gas struts to help hold the lexan while replacing letters
Enhances brand image
Comes with vandal protection and engineered for extreme weather conditions
Extremely affordable prices
Let's work together
Our creative team will incorporate your colors, fonts, logo, and graphics into your design, making sure each sign is uniquely tailored to your school. Each component that goes into your sign is created with the knowledge and quality craftmanship that will make sure that you feel safe.